Connect K-Board to an iPad: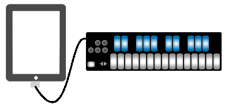 The image shows K-Board connected to an iPad via USB. You will need the iPad Camera Connection Kit (sold by Apple). Attach the camera connector to the iPad and then use a USB A-to-Micro cable to connect the K-Board micro port to the camera connector.
Open an iPad app that accepts MIDI and make sure your iPad's volume is up.