Connect QuNexus to an iPad: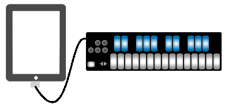 The image shows QuNexus connected to an iPad via USB. You will need the iPad Camera Connection Kit (sold by Apple). Attach the camera connector to the iPad and then use a USB A-to-Micro cable to connect the QuNexus micro port to the camera connector.
Open an iPad app that accepts MIDI and make sure your iPad's volume is up.